Awotse Kelly Set To Release Classic Highlife Song Featuring Strongman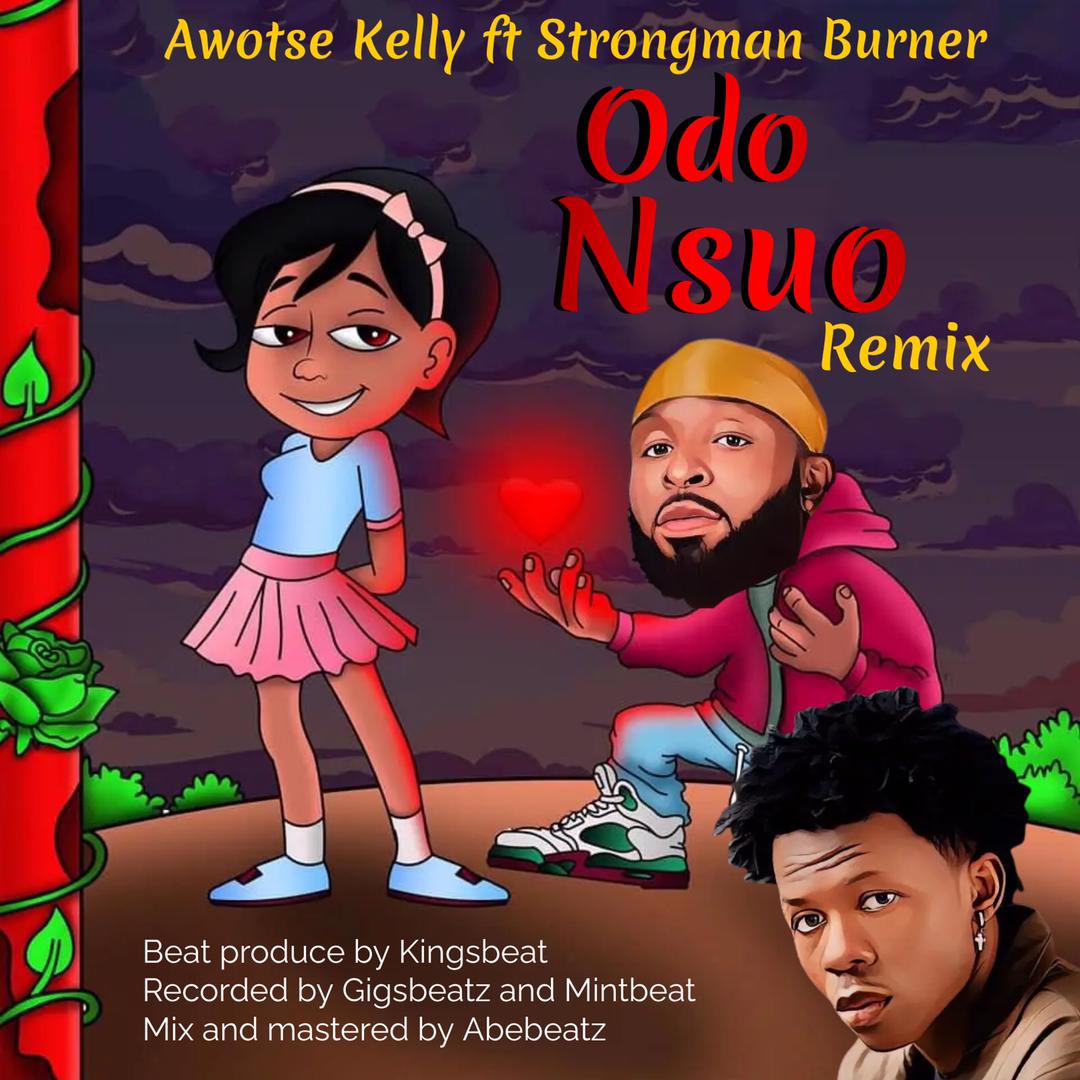 Ghanaian musician Awotse Kelly is making a striking comeback with a highly-anticipated highlife song, teaming up with renowned rapper Strongman for a captivating remix of his popular track "ODO NSUO." Produced by Kingsbeat, the song has been crafted, with recording handled by GigsBeatz and Mintbeat, and the final mix and master delivered by Abebeatz.
After a hiatus from the music scene, Awotse Kelly is now ready to captivate audiences once again with a fresh and vibrant musical offering. The collaborative effort with talented rapper Strongman promises to infuse a fusion of classic highlife vibes with modern rap elements, creating a memorable and dynamic musical experience for fans of both genres.
"ODO NSUO" has already gained significant popularity, and the upcoming remix is expected to further elevate its status as a standout track within the highlife music landscape. The combination of Awotse Kelly's soulful and melodious vocals, combined with Strongman's compelling lyrical prowess, is set to add a new dimension to the original song, bringing a fresh perspective and renewed energy to the timeless highlife genre.
With a team of seasoned and skilled producers at the helm, the remix has been meticulously crafted to ensure a seamless fusion of traditional highlife sounds with contemporary production elements. The result is a track that is poised to resonate with a wide audience, appealing to both aficionados of classic highlife music and fans of modern rap alike.
As Awotse Kelly makes his return to the forefront of the music scene, the collaborative efforts with Strongman serve as a testament to his dedication to delivering quality music that transcends genres and resonates with listeners on a profound level. The decision to enlist the talents of Strongman for the remix underscores the artist's commitment to pushing boundaries and exploring new musical territories, creating an innovative and compelling musical narrative for audiences to embrace.
The anticipation surrounding the release of the "ODO NSUO" remix is palpable, with fans eager to experience the culmination of Awotse Kelly and Strongman's creative synergy. As the release date draws near, the song is poised to make a significant impact, captivating audiences with its infectious melodies, evocative lyrics, and masterful production.
The collaboration between Awotse Kelly and Strongman represents a convergence of two formidable talents, blending their respective strengths and artistry to create a musical masterpiece that transcends boundaries and connects with audiences on a deeper level. This dynamic synergy is set to propel "ODO NSUO" to new heights, solidifying its status as a timeless and enduring piece of musical artistry.
As the music industry eagerly awaits the arrival of the "ODO NSUO" remix, the stage is set for Awotse Kelly and Strongman to leave an indelible mark on the contemporary music landscape. With their combined talent, creativity, and passion, they are poised to deliver a musical experience that resonates with fans, creating an enduring legacy that celebrates the rich traditions of highlife music while embracing the spirit of innovation and evolution.
As the release date approaches, music enthusiasts can look forward to immersing themselves in the captivating sounds of "ODO NSUO" and experiencing the magic that unfolds when two exceptional artists come together to create something truly special. This collaboration serves as a testament to the enduring power of music to bring people together and leave a lasting impression on the hearts and minds of audiences worldwide.
As the world eagerly awaits the unveiling of the "ODO NSUO" remix, the stage is set for Awotse Kelly and Strongman to showcase their exceptional talents and unite audiences through the universal language of music. This collaboration is a testament to the enduring power of artistic expression and the transformative impact of music, serving as a source of inspiration and joy for all who encounter its enchanting melodies and poignant lyrical imagery.